Case, Dana (2011-2014)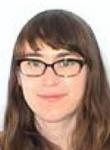 Dana is in the Molecular Biology IDP. She joined the Training Program in 2011. Her research mentor is Dr. Kathrin Plath. She received a B.S. degree in 2008 from UCLA.
Mentor: Dr. Kathrin Plath
Research project:
Currently studying the mechanisms of X chromosome reactivation in transcription factor mediated reprogramming.