DeMario, Samuel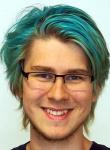 Sam is in the Biochemistry, Molecular and Structural Biology Graduate Program, joined the Chanfreau lab in 2018, and joined the CMB training program in 2020. He received a B.S. degree in Biochemistry from the University of Georgia.
Mentor: Dr. Guillaume Chanfreau
Research project:
Sam's research uses a combination of wetbench experiments and computational analysis to better understand RNA decay in S. cerevisiae. Currently he is studying 2 areas of RNA decay: the TRAMP complex, which plays a role in targeting RNAs for degradation by the nuclear exosome and the No-Go Decay/Non-Stop Decay pathways responsible for degradation of transcripts which have become unreadable by the ribosome. When he's not in lab Sam enjoys playing guitar, cooking, and biking!