Molgora, Brenda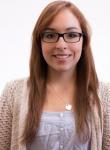 Brenda is in the Immunity, Microbes & Molecular Pathogenesis home area of the MBIDP. She joined the CMB training program in 2015. Her research mentor is Dr. Patricia Johnson. She received a B.A. degree in 2011 from Whittier College.
Mentor: Dr. Patricia Johnson
Research project:
I am currently working on passaging an adherent Trichomonas vaginalis strain, B7268, to enrich for poor adherence. Quantitative proteomics will be employed on both the adherent and "poorly adherent" version of this strain to compare the differences or changes in cell surface proteomes. The acquired peptides will be labeled and analyzed using LC/MS to determine abundance. Proteins found to be decreased by 50% between the adherent and poorly adherent T. vaginalis will be further analyzed using gain/loss of function assays. I am concurrently examining their adhesive and cytolytic properties against vaginal epithelial cells (VECs) and benign prostatic hyperplasia line (BPH-1) as previous findings have shown that strains with high adherence have high cytolytic properties.