Pai, Melody Y. (2011-2014)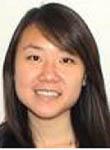 Melody is in the Molecular Biology IDP. She joined the Training Program in 2011. Her research mentor is Dr. Jing Huang. She received a B.A. degree in 2010 from UC Berkeley.
Mentor: Dr. Jing Huang
Research project:
Age is one of the greatest risk factors for cancer. With increasing age comes increasing susceptibility to age-related diseases, including cancer. Thus, a novel approach to treating cancer is to treat aging itself. However, not much is known about the molecular targets of the aging pathway. I plan to analyze the anti-aging mechanisms and identify the molecular targets of various compounds that have been shown to have anti-aging effects in hope that they will provide a better understanding of the aging pathway itself. This can potentially provide targets of the aging pathway that can prove to be useful and much more effective than current methods for cancer therapy.