White, Jonelle (2014 - 2017)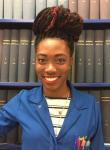 Jonelle is in the Biochemistry, Molecular and Structural Biology graduate program. She joined the CMB program in 2014. Her research mentor is Dr. Steve Clarke. She received a B.S. degree in 2014 from SUNY Albany.
Mentor: Dr. Steven Clarke
Research project:
Jonelle's work focuses on characterizing the functional implications of elongation factor 1 alpha (EF1A) methylation, a GTP-activated protein involved in the elongation step of protein synthesis. Using Saccharomyces cerevisiae as her model system she will investigate how the methylation of EF1A affects its role in protein synthesis and it's involvement with the actin cytoskeleton.