Zavala, Kathryn G. (2012-2015)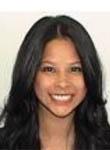 Kathryn is in the Department of Molecular, Cell and Developmental Biology. She joined the training program in 2012. Her research mentor is Dr. John Adams. She received a B.S. degree in 2008 from UC Berkeley.
Mentor: Dr. John Adams
Research project:
The beneficial effects of vitamin D as a treatment for leprosy were recognized more than half a century ago but only in recent years have we begun to understand the cellular and molecular basis for this. In particular, antibacterial mechanisms triggered by vitamin D are hypothesized to help combat infection with Mycobacterium leprae (M. leprae), a mycobacterium that causes leprosy. My studies will focus on the mechanisms by which pattern cellular recognition receptors signal to components of the vitamin D system upon encountering M. leprae. Furthermore, I will investigate the strategies employed by M. leprae to subvert vitamin D responses in more aggressive forms of leprosy. In addition to RNA and protein analyses, HPLC will be utilized to study vitamin D activation and catabolism in different innate immune cell types following infection with M. leprae. I will also use gene expression and chromatin association analyses to study immune cell signaling following activation of vitamin D.