Ziyiad, Safiyyah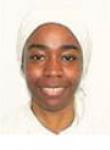 Safiyyah is a first year trainee and is in the Department of Molecular, Cell, and Developmental Biology. Her research mentor is Dr. Luisa Iruela-Arispe. She received a B.S. degree in 2007 from UC Berkeley.
Mentor: Dr. Luisa Iruela-Arispe
Research project:
The Sleeping Beauty (SB) transposon is a powerful mutagenesis tool that can be used to perform mutagenesis screens in a murine system. In coordination with linker-mediated PCR and sequencing, this method can be used to model cancers and determine the causative genes in specific lesions. SB mutagenesis is an ideal method to determine the causative genes in diseases of little understood mechanism. One such category of diseases is the vascular anomalies, which include vascular tumors and malformations. The genetic mechanism of congenital vascular anomalies has been investigated using association studies and family pedigrees. However, there is a deficit in the literature with regards to the cause of spontaneous vascular anomalies that result from somatic mutations. I propose to use endothelial cell restricted Sleeping Beauty mutagenesis to model vascular anomalies and determine the causative mutations in a murine model. The identification of the causative genes will lay the groundwork for developing target therapies for vascular anomalies.